ZEEKO
LinkedIn is not just a customer acquisition tool for ZEEKO itself, as Isaac and his team help their customers with LinkedIn leads generation and thus have to manage multiple LinkedIn inboxes simultaneously. Finding a way to more effectively manage and structure conversations in different LinkedIn inboxes was therefore one of Isaac's top priorities. With the help of Inguro, ZEEKO team can communicate with clients more effectively and significantly cut the labour cost per deal.
50%
Shortened sales cycle
Zeeko® helps B2B clients to create meaningful relationships between the clients and their customers so they can make more money in less time. Among proven methods for generating relationship-driven sales brings our clients an ROI that will surpass their expectations.  Market Research, profile optimization, and message scripting are just some of the services to name. 
www.zeeko.io
Headquarters
Kansas, United States
Industry
Sales consultancy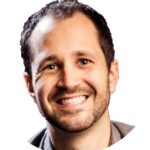 Isaac Anderson
ZEEKO, agency founder and educator
Organizing conversations into pipelines puts my frame of mind where it needs to be while doing messaging. Also, Inguro saves my manual time down by 50%, and extra time is invaluable.
Interview
Please introduce yourself
My name is Isaac and I am the owner of Zeeko. We do LinkedIn legion. We work with b2b companies exclusively, by targeting a variety of segments. A big variety of industries we're targeting makes an average deal size of about 10.000€ annual client value. On the high end, it's going to be in the millions.
What was your challenge before using Inguro?
One of the biggest challenges with using LinkedIn is that the inbox is limited and doesn't give users the ability for organizing threads in any capacity. Firstly as a service provider, our biggest cost is labor. For this reason, LinkedIn has been a big money pit for us. That is why we were looking for a better way to organize our inbox in order to save costs thanks to increased efficiency.
What are the main benefits from using Inguro for you?
Inguro is a tool that finally organizes our inbox threads by pipeline stage. We can cut our manual time down by about 50% now. This way we can be better concentrated and know exactly what we need to do next. If we have an opportunity, we can go right through a unique specific client segment, replying all in one batch - and thus increasing our efficiency and credibility in customers' eyes.
Apply now to join our Private Beta !
Join hundreds of other Growth Hackers, Lead Generators & Recruiters today!